Chicken Parmesan Skillet Casserole. Rao's will take your Chicken Parmesan to the next level with our Tomato Basil Sauce. Check out one of our delicious chicken recipes! Spinach & Artichoke Chicken Skillet Casserole.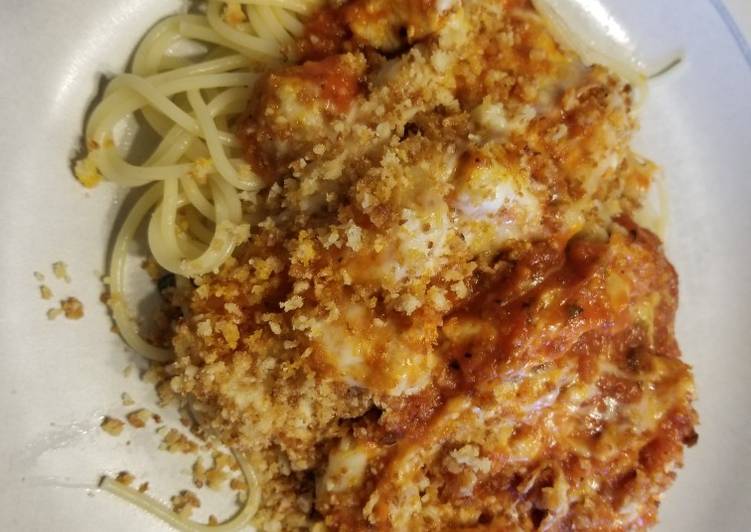 Heat a skillet over medium heat and add a drizzle of olive oil. How you make chicken parmesan casserole. Cook your pasta: Cook the pasta according to package directions. You can have Chicken Parmesan Skillet Casserole using 11 ingredients and 6 steps. Here is how you achieve it.
Ingredients of Chicken Parmesan Skillet Casserole
You need 3 tablespoons of butter.
You need 1/2 cup of Italian style panko crispy bread crumbs. (You really need the panko bread crumbs for this).
You need 1/2 cup of shredded Parmesan cheese.
Prepare 1 lb of skinless boneless chicken breasts cut into 1 inch pieces, patted dry.
It's 1/4 tsp of salt.
Prepare 4 cloves of garlic finely chopped.
You need 1 tsp of Italian seasoning.
It's 1/2 tsp of red pepper flakes.
It's 1 1/2 cup of tomato basil pasta sauce (I ended up using the entire 22 oz jar, so be flexible!).
It's 1 1/2 cups of shredded mozzarella cheese. (I use the whole bag, what's another 1/2 cup).
You need 2 tablespoons of shredded fresh basil (if you have it. I sprinkled a bit of dry basil seasoning on it).
Rinse and drain the pasta in a colander. Prepare and fry your chicken: In a large skillet heat the oil over medium heat. Mix together and place chicken breasts back into skillet. Pleasant seasonings and plenty of vegetables highlight this traditional chicken and rice pairing.
Chicken Parmesan Skillet Casserole instructions
Heat oven to 400 degrees farenheit.
In a 10" oven proof skillet melt a tablespoon of butter. Add bread crumbs cook stirring frequently until toasted, about 5 minutes. Transfer to separate small dish. Add Parmesan cheese to toasted Panko crumbs. Set aside..
Wipe skillet and add remaining 2 tablespoons butter into skillet over medium high heat. Add chicken and salt and cook until chicken is cooked thru, add garlic, Italian seasoning and pepper flakes; stir and cook another minute..
Stir in pasta sauce; heat to simmering. If the consistency is to thin I simmer intil it thickens to my liking.Remove from heat, top with mozzarella cheese. Bake until cheese is melted probably 5 minutes..
Sprinkle with bread crumb mixture. Top with basil..
I served this over spaghetti..
Leftovers are great reheated in the microwave. —Jan Balata, Kilkenny, Minnesota Place diced chicken in the bag or bowl and shake vigorously, coating chicken with bread mixture. In a large casserole pot, heat the oil over medium high heat. Add the celery and carrots and season with salt and. This is pure, unadulterated comfort food that's hearty, cozy, and will put a smile on your face. Recently I made it into a bake with some spaghetti squash in the name of keeping things light and OMG it's a keeper.