Mexican chicken and rice casserole. Add Mexican cheese blend and tortilla chips to casserole. While the Rice is cooking, prepare chicken. Sprinkle the rice over the soups, then place the chicken breasts (still frozen) on top.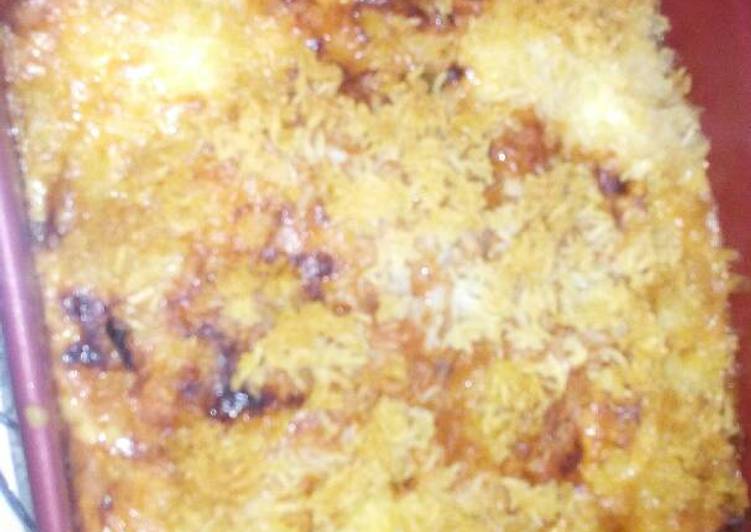 Warning: In this post I will be talking about real life stuff so if you are only after the Mexican chicken casserole recipe, proceed to scroll through all the rambly stuff. This Mexican Chicken and Rice Casserole instantly became a new family favorite. So cheesy and delicious, my enchilada-loving boys were totally digging the fact that this casserole had all of their favorite elements in an easy to eat package. You can cook Mexican chicken and rice casserole using 11 ingredients and 8 steps. Here is how you cook that.
Ingredients of Mexican chicken and rice casserole
You need 1 2/3 cups of uncooked rice.
You need 6 of skinless, boneless, chicken breast halves.
You need 2 tbs of fajita (or taco) seasoning.
It's 3 1/2 cups of chicken broth.
You need 1 can of condensed cream of mushroom soup (10.75 ounces).
Prepare 1 can of condensed cream of chicken soup (10.75 ounces).
It's 1 1/2 cups of salsa.
Prepare 1 tablespoon of cayenne pepper (or to taste).
It's 1 of large onion, chopped.
You need 2 cups of cheddar cheese, shredded.
You need 2 cups of pepper jack cheese, shredded.
I loved how quick it was to throw together with the help of Old El Paso and a rotisserie chicken. In a large casserole dish, layer half of chicken, soup mixture, and cheese. NOTE: The chips get pretty dark–if you are afraid they will burn cover the casserole. In a large skillet, saute the chicken green pepper and onion in oil until chicken is no longer pink and vegetables are crisp-tender.
Mexican chicken and rice casserole step by step
Preheat your oven to 350 degrees.
Boil the chicken halves for 12 minutes.
Cook the rice on the stove, using the chicken broth in place of plain water.
While waiting for the chicken and rice to cook, mix the chicken and mushroom soups, salsa, chopped onion, and cayenne pepper together in a large bowl. Mix well..
Mix the pepper jack and cheddar cheese together in a separate bowl..
Take the boiled chicken (after letting it cool enough to handle), and shred it into bite sized pieces. Then add the fajita/taco seasoning and toss to coat the chicken.
Lightly grease a 9×13 Pyrex dish. Layer in the following order… 80% of the cooked rice, all of the chicken, all of the soup/salsa mixture, all of the cheese mixture, and the remaining rice on top (this adds a very nice crunch to the dish)..
Bake for 30 minutes. Lots of ways to alter this recipe. My feelings won't be hurt by that… :-).
Add the corn, broth, salsa, salt, chili powder if desired and pepper; bring to a boil. Stir in the rice; cover and remove from the heat. Layers of rice, chicken breast, a creamy soup and salsa mixture and two kinds of cheese add up to a simply yummy salsa casserole! This recipe is a family favorite because it's delicious and easily made with ingredients found in the pantry. Tips for Making Mexican Salsa Chicken and Rice Casserole.