Turkey Broccoli Rice Casserole. This easy Broccoli Rice Casserole uses simple pantry ingredients to turn leftover turkey into a quick and easy meal that the whole family will love! This comforting casserole features perfectly cooked rice, tender broccoli and juicy turkey in a creamy cheesy sauce all topped off with a buttery cheesy topping. The best part is that… Brown rice will take longer to cook and may require more liquid.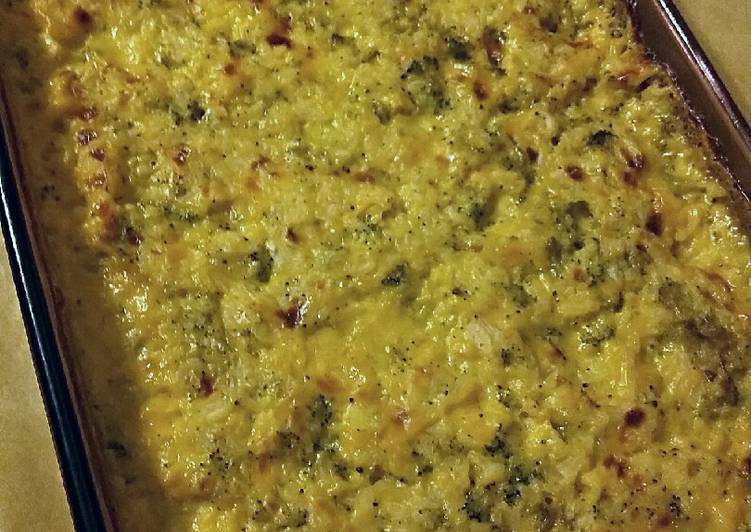 Cooking turkey broccoli rice casserole in a skillet is my preferred method because everything gets cooked to perfection. Freeze option: Sprinkle cheese and French-fried onions over unbaked casserole. Turkey, Broccoli and Wild Rice Casserole. You can cook Turkey Broccoli Rice Casserole using 7 ingredients and 4 steps. Here is how you cook it.
Ingredients of Turkey Broccoli Rice Casserole
It's 1 lb of turkey breast – cut to about 1/2" cubes.
Prepare 3 cups of fresh broccoli florets.
Prepare 3 cups of cooked white rice (I usually use leftover rice lol).
Prepare 2 cans of cream of chicken soup.
Prepare 1 can of water (this is filling one of the soup cans lol).
You need 2 cups of shredded cheese (tonight I used Velveeta shreds).
Prepare to taste of salt, pepper, garlic powder, onion powder.
If you're in need of a new way to jazz up your turkey leftovers, then I have the perfect recipe for you! After that I added one can cream of chicken soup to a small mixing bowl along with half the can filled with chicken broth and the other half filled with heavy cream. In a large bowl, combine all of the ingredients. This turkey divan casserole is easy and delicious.
Turkey Broccoli Rice Casserole instructions
Preheat oven to 375°F. Steam broccoli either on stovetop or in microwave until fork tender. (Tonight I microwaved mine in a vented container with 2 tbs water for about 7.5 minutes.).
While broccoli steams, cook turkey breast in a medium skillet over medium-high heat, season with desired amounts of salt, pepper, garlic powder, and onion powder as it cooks..
Allow broccoli and turkey to other cool enough to handle. Separately give each a rough chop. In a large bowl combine soup, water, and shredded cheese. Stir in rice and turkey to combine. Gently fold in broccoli. Taste and adjust seasoning as desired..
Pour mixture into a lightly greased 9×13" baking dish. Bake uncovered 45 minutes, or until lightly browned on top. Let rest 15 minutes before serving. Enjoy!.
Made from scratch without MSG, prepackaged sauces, or cream of anything soups, this dish is quick and easy and uses up that pesky leftover Turkey and maybe even some vegetables if you still have them laying around. Every bite is a delicious source of lean protein. My recipe for Broccoli Rice Casserole with Ground Turkey is an easy weeknight dinner that even the little ones will love. You can swap out the broccoli for any frozen vegetables, and sometimes we use cheddar instead of mozzarella for a little tang. Cook rice in rice cooker per package directions.