Cheesy Chicken Broccoli & Rice Casserole. Transfer cooked rice into a large mixing bowl, and stir in the chicken, broccoli, and onion. This Cheesy Chicken Broccoli Cassrole is super creamy and the flavor is very close to homemade alfredo. This recipe is Low-Carb and Gluten Free.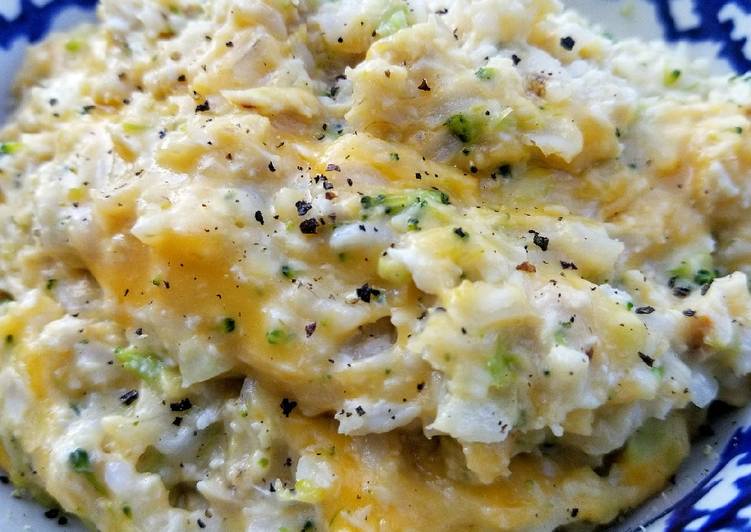 This cheesy Chicken Broccoli Rice Casserole is the EASIEST meal you'll make all week and is sure to become a new family favorite! Made with rotisserie chicken, this time-saving recipe is perfect for weeknights and is a hit with kids and adults alike! Don't forget the dinner rolls to serve alongside this delicious dinner! You can have Cheesy Chicken Broccoli & Rice Casserole using 11 ingredients and 10 steps. Here is how you cook that.
Ingredients of Cheesy Chicken Broccoli & Rice Casserole
You need 4 of Chicken Breast.
It's to taste of Salt & Pepper.
It's of Smoked Paprika (optional).
Prepare 2 C of Quick Cook or Instant Brown Rice.
Prepare 1 bag of Frozen Broccoli Florets.
It's 1 of medium onion, diced.
It's 1 can of Cream of Chicken.
You need 1 can of Cream of Mushroom.
Prepare 1 C of Milk.
It's 1/4 C of butter.
Prepare 1 lb of Shredded Cheddar Cheese.
This cheesy chicken broccoli casserole starts with fresh or frozen broccoli and bakes up so cheesy! It's topped off with Stove Top Stuffing and the kids love it! Juicy chicken, fresh or frozen broccoli, Stove Top Stuffing, and plenty of melty cheese! This casserole is a family favorite and it's ready in less than an hour.
Cheesy Chicken Broccoli & Rice Casserole instructions
Preheat oven to 375F.
Season chicken breast with salt, pepper, and smoked paprika..
Bake 30 minutes or until appropriate internal temp is reached..
Shred Chicken. I used my food processor..
While chicken is baking, cook your rice according to package instructions..
In a large casserole dish mix all ingredients well. Seasoning with salt and pepper to taste.
Bake at 375 for 20 minutes, remove and stir..
Return and bake for 10 more minutes.
Remove, shut oven off, and serve!.
I threw my onion and broccoli in the food processor as well so that my toddler could eat this without having any big chunks. Enjoy :).
It's cheesy, it's comforting, loaded with broccoli and super simple to make! I wanted to share with you another favorite one pot recipe of mine. It has rice, chicken, cheese, and some broccoli. You know it's going to be good. Cheesy Chicken Broccoli and Rice Casserole is pure comfort food!