Cheesy Chicken & Spinach Rice Casserole. Discover A Wide Range Of Easy To Make Recipes With Knorr® Products Today! Use The Rich, Authentic Taste of Knorr® To Add Flavor To Your Meals! This cheesy broccoli chicken is the perfect comfort food on a cold day.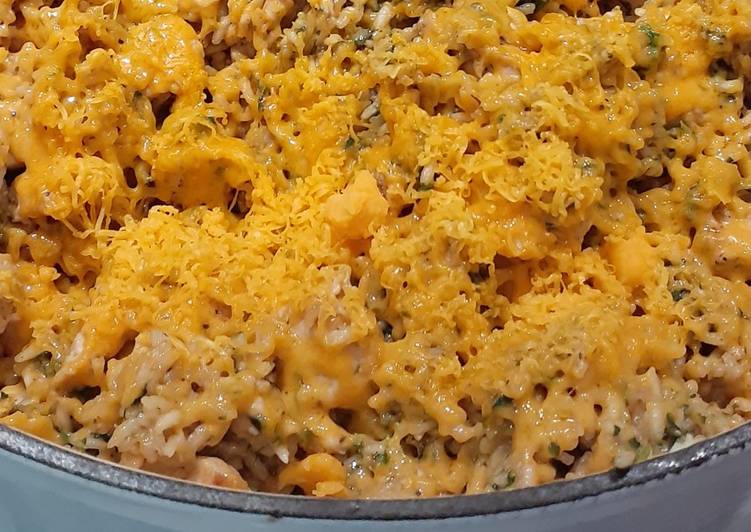 Goes great with rice and whichever veggie you decide on the side. Super easy to throw together, not a lot of ingredients and super tasty.don't forget to spray yor baking dish with nonstick cooking spray. Dip chicken in remaining butter, then spread with sour cream. You can cook Cheesy Chicken & Spinach Rice Casserole using 10 ingredients and 8 steps. Here is how you cook that.
Ingredients of Cheesy Chicken & Spinach Rice Casserole
You need 2 of chicken breasts cubed.
You need 1/2 of medium onion.
It's 1 tbsp of garlic.
Prepare 1-1/4 cup of chicken broth.
Prepare 1/4 cup of water.
You need 1 cup of long grain white rice.
It's 1 cup of shredded cheddar cheese.
You need 1 cup of frozen or fresh spinach.
Prepare 1 1/2 tbsp of olive oil.
Prepare to taste of Salt and pepper.
Shake chicken pieces in flour mix. Combine soup, sour cream, and asparagus; mix well. Sprinkle with cheese and return to oven till it melts. Cheesy Chicken Casserole is the perfect easy casserole when you're short on time (or ingredients)!
Cheesy Chicken & Spinach Rice Casserole instructions
In a large pot over medium heat add the olive oil and then and the onions. Saute for 2-3 minutes.
Season the chicken with salt and pepper and add to pot. Cook until browned. 5-7 minutes.
Add garlic and cook for 1 minute.
Add chicken broth, water and rice. Cover with lid and and turn the heat down to low.
Cook for 15 minutes stirring halfway through.
After 15 minutes, stir in the thawed or fresh spinach and cook for another 7 minutes..
Remove from heat and add cheddar cheese..
Enjoy!.
Pasta is tossed with chicken, peppers, onions, and mixed into shortcut cheesy sauce. Finally, this chicken casserole recipe is topped with even more cheese and baked until melty and bubbly. Crush the sleeve of Ritz crackers in a large bowl until it's fine enough to use as breading. Remove the chicken and add the soup, water, onion powder and rice to the skillet. Heat to a boil then reduce the heat to low.