Corn Dog Casserole. In a large bowl, whisk eggs, milk, sage and pepper. Top with reserved hot dog mixture and remaining. Browned hot dog pieces mixed with celery, green onion, a corn bread batter and Cheddar cheese for a taste of the county fair in a casserole!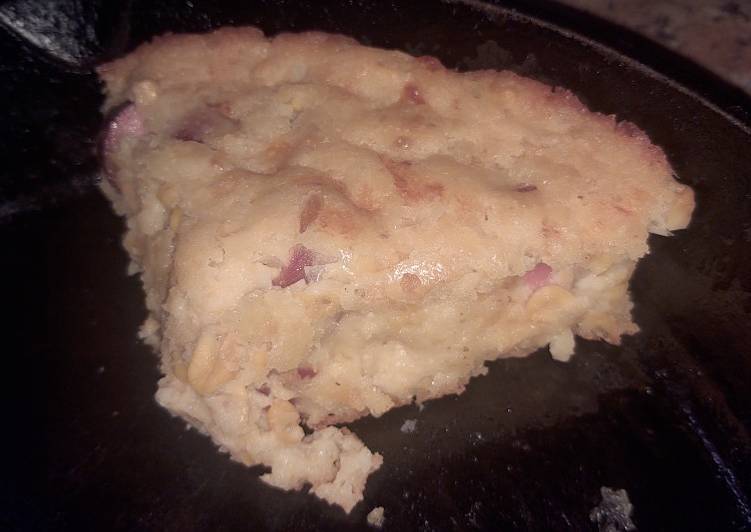 In a large bowl, combine eggs, milk, sage and pepper. Add the remaining hot dog mixture. Top with reserved hot dog mixture and remaining cheese. You can have Corn Dog Casserole using 8 ingredients and 5 steps. Here is how you achieve that.
Ingredients of Corn Dog Casserole
Prepare 1 box of JIFFY cornbread mix.
It's 1 can of creamed corn.
You need 1 can of sweet corn kernels.
Prepare 73 grams of butter (soften).
It's 1 pack of 8 hotdogs.
It's 257 grams of sour cream (around a cup).
It's 112 gr of Monterey Jack cheese.
Prepare 2 of Large eggs.
This Corn Dog Casserole I an easier version of the kid friendly corn dog – made into a casserole topped with cheese. Best served with ketchup and mustard. Easy and Kid Friendly In a medium skillet, melt the butter over medium heat; add celery and hot dogs. With this easy casserole recipe, you can get corn dog flavor without the fryer!
Corn Dog Casserole instructions
In a large mixing bowl add all ingredients. Mix thoroughly.
Pour in casserole dish or a cast iron skillet (I use a 10 inch that is around 1.5 inches high).
Bake in a 350° preheated oven for 40 minutes (if not preheated go for around 50 min)..
Remove from oven, check with tooth pick in center to see if it pulls out clean. Leave sit for at least 7 to 10 minute to stiffen..
This recipe makes 18.77, 100 gram servings. Each serving equals 230 cal per..
Easy Baked Corn Dog Casserole is a classic state fair-inspired recipe that's super easy to make with much less of a mess than frying. It uses sliced hot dogs, cornbread mix, cheese, and just a few other simple ingredients that are all baked into a delicious casserole. Baked corn dogs are almost as good, and so much better for you! So I tried making individual corn dogs in the oven a few different ways, but I couldn't find an easy way to get the batter to stay on the dogs while they were baking. Finally I decided to just throw the whole thing in a casserole dish and call it a day.