Classic Tuna Casserole. There are many reasons this tuna noodle casserole recipe is a classic: It's comforting, easy to make, and so very satisfying. A creamy sauce with celery brings the same winning flavor combination of a tuna salad sandwich to this one-dish oven meal, which bakes under a golden breadcrumb crust with sweet peas, pimentos and the most tender egg noodles. Stir the bread crumbs and butter in a small bowl.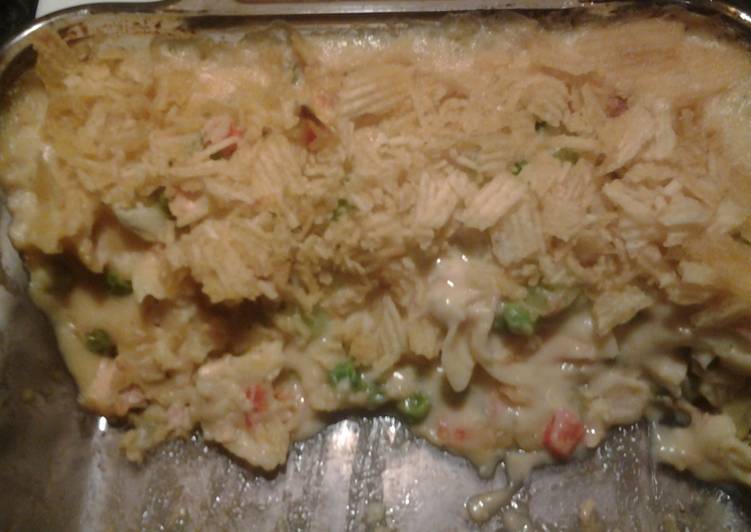 Easy to make and a great economical dish that will have your kids loving tuna! Classic Tuna Casserole is a great dish that is incredibly quick and easy to prepare. Make it ahead of time and refrigerate until ready to bake. You can have Classic Tuna Casserole using 10 ingredients and 6 steps. Here is how you achieve it.
Ingredients of Classic Tuna Casserole
It's 6 oz of wide noodles.
Prepare 2 can of cream of celery.
Prepare 1/2 cup of chicken broth.
It's 1 1/2 cup of milk.
You need 1 cup of frozen peas.
You need 1/2 of red pepper, fine dice.
Prepare 1/2 tsp of black pepper.
You need 6 oz of shredded cheddar.
Prepare 2 of cans tuna.
It's 1 cup of crushed potato chips.
This old-time classic tuna casserole will bring you right back to childhood. Budget-friendly and easy to double for a crowd! Budget-friendly and easy to double for a crowd! A weeknight winner, this tuna casserole recipe is easy to whip up, has an amazing creamy sauce, topped with a crunchy mixture (made of bread crumbs and cheese.
Classic Tuna Casserole instructions
Boil your noodles. Put the peas in the colander and pour cooked noodles on top. Set aside..
Mix everything else in large bowl. Add noodles w/peas..
Carefully fold in tuna. Turn into 9×9 pan..
Top with crushed potato chips..
Cook 35-40 min. at 350° until bubbly at edges..
Cool 10 min., serve..
Combine the soup and milk in a bowl and mix well. My tuna noodle casserole has the classic ingredients your mom probably used in hers: egg noodles, tuna and cream of mushroom soup. For a splash of green, I have always used peas in mine as well. To reduce the fat and sodium content, use low fat, low sodium soup. I loved tuna casserole as a kid and found myself craving it as an adult.