Tuna Casserole. Tuna casserole is a family favorite, and great for serving large groups. In this tuna casserole recipe from Martha Stewart, we cut the sauce with chicken broth, but there's still enough milk to make this tuna casserole feel indulgent. Cook egg noodles to al dente in boiling salted water; drain well.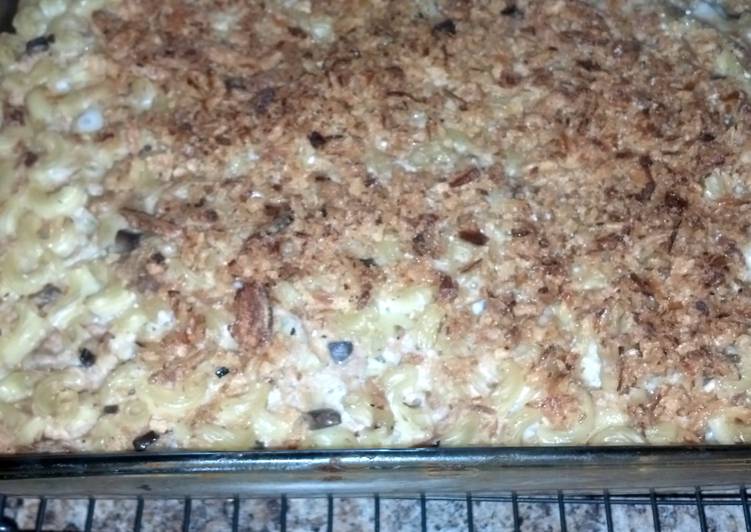 It's been a family favorite for generations! Flaky tuna is tossed with egg noodles, peas, celery, and mushroom soup. We top this with a buttery breadcrumb topping and bake it until it's bubbly. You can have Tuna Casserole using 6 ingredients and 5 steps. Here is how you cook that.
Ingredients of Tuna Casserole
You need 3 cup of cooked elbow macaroni.
You need 26 oz of family size cream of mushroom.
You need 3 can of tuna.
It's 3/4 cup of crushed frenchs fried onions.
Prepare 1 dash of pepper.
You need 1 dash of garlic salt.
I also topped the casserole with a delicious crunchy topping made with Panko bread crumbs, Parmesan cheese, smoked paprika (<- quickly becoming my favorite pantry staple), fresh parsley, and, of course, a little butter for flavor and browning. Tuna noodle is at heart an easy, thrifty casserole, with a base of tender egg noodles, savory gravy, sweet peas, and delicate flakes of tuna (bonus points if it has a crispy, cheesy top). This one doesn't require a can of condensed soup or an advanced culinary degree — it hits all the high points of the classic casserole while still being. In a large bowl, combine soup and milk until smooth.
Tuna Casserole step by step
grease 13 by 9 inch pan with cooking spray.
add 3 cups of cook macaroni. add a dash of pepper and garlic salt.
stir in family size cream of mushroom and 3 cans of tuna. also you can use crushed French's fried onions and stir together.
bake at 350°F for 40 minutes.
take out and add remaining French's fried onions and continue baking for 15 more minutes until top is golden brown.
Add the noodles, peas, tuna and pimientos; mix well. This tuna noodle casserole is leaps and bounds tastier than any old memories you have of tuna casserole. Rather than a canned "cream of soup" we make a really simple white sauce from scratch with just flour, butter, chicken broth and milk. Peas, celery and onion are sautéed to give the tuna casserole a boost of flavor as well. Originally, this casserole dish was made with non-perishable pantry ingredients as a cheap, wholesome dinner that doesn't require a trip to the store.